Overview: Advertising in the official communication channels

In the following, you will find all entries that can be booked to optimally present your company, products, services, and solutions in the official trade fair media at interpack 2023.
We provide the following media channels:
The online portal at www.interpack.com including the exhibitor and product search (2017: about 7,150,000 page impressions and about 860,000 visitors)
Trade fair app (iOS & android)
D:vis (visitor information system inside all halls and entrances)
Trade fair navigators and video wall on site at fair ground
Infoletter (about 145,000 international recipient)
The printed interpack Guide and catalogue
Below you may find a thematic list of the media entries. You can also view a complete overview of all products at any time here.
Please note that the basic entry (company name, address, contact information as well as hall and stand numbers) and one short entry in the product categories are already included in your media lump sum and afford you a basic presence in the media. These entries are obligatory and therefore must be completed. Please fill this out, put the products in the shopping cart and order it. The company name and address will be taken from your registration forms. 
You're looking for something different, something extraordinary to highlight your company or your product at the trade fair? Just talk to us, we promise to find something effective for you.
Tip: navigate through the individual items under "Marketing & Press" or use the search function ("Im looking for") at the top of the page to find the products your are looking for.
If you have any questions about the available trade fair media and advertising options, please do not hesitate to contact us:
NEUREUTER FAIR MEDIA
Phone: +49 201 36547 209
e-mail: interpack@neureuter.de 
1. Marketing packages
Cross-medial. Budget-saving. Time efficient.
Our three package offers (Start, Professional, and Premium) include the most important and popular products. Your company and products will attain an outstanding, cross-media presence in the official media channels with our packages for a discounted price compared to individual orders of the same entries.
New: become a Silver (max. 3 exhibitors), Golden (max. 2 exhibitors) or Platinum Exhibitor (exclusive for one exhibitor) and benefit from an exclusive company and product presentation in all communication channels. These packages are very limited!
Overview of marketing packages
2. Company presentation
Corporate and brand maintenance.
Here you will find comprehensive options to present your company and trademarks in the various media channels. Fill in your basic entry, place your logo in the media or offer visitors an overview of your trademarks or product names. This way you can be found easily by existing and potential new clients.
Overview of company presentations
3. Product presentation
Your products. In the focus of potential new customers.
Visitors are looking for suppliers of a particular product or a special service. These potential clients will use the product directory to research new contacts and business partners that fit their needs.
Increase your chances to get in contact with new customers by presenting your company in the relevant product categories. In the product directory, you can increase visibility by booking logo or a top of the list entry so your company appears in one of the top three spots in your most important categories, in order to stick out among your competition.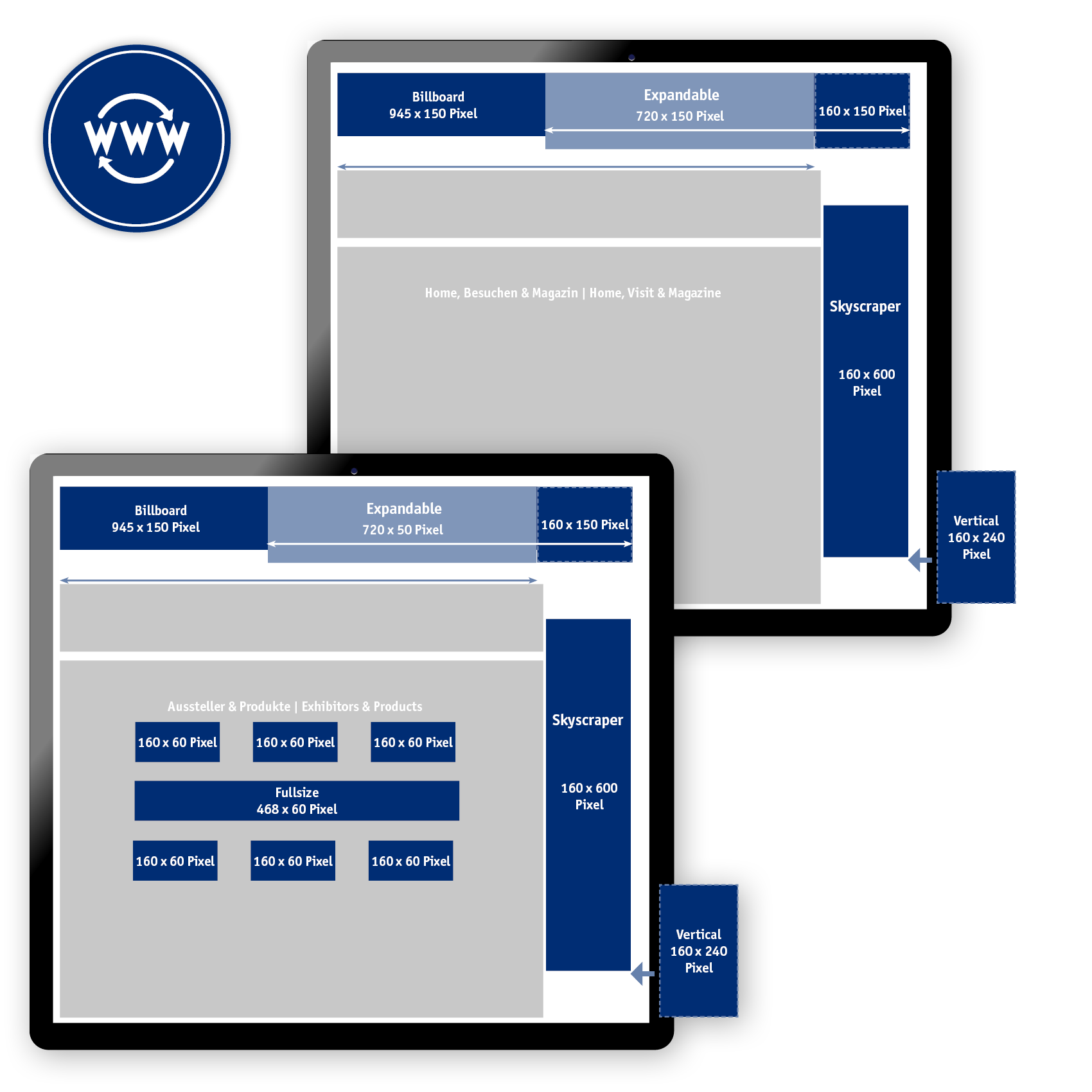 4. Display and banner advertisements
Branding. Range. Impact.
Take advantage of the extensive preparation time of visitors and make yourself visible by placing a banner in the interpack website. You have a choice between various subpages on the website (Home/Visitor/Magazine, Exhibitors & Products, or the ticket shop) and banner sizes. This makes it possible to find the right banner for every budget!
It is also possible to place customized advertisements in the fair app or the visitor infoletter to effectively distribute your message.
Overview of banner advertisements
5. Print advertisements
Digital detox. Advertise classically.
Whether visitors use the print media to organize their experience at the trade fair or afterwards at home or in the office for follow-up research, your advertisement in the in the interpack Guide and the catalogue will appear prominently for your target audience.
We offer you limited and visible positions, for example advertisements on the cover pages or next to your hall, that will grab the attention of visitors!
6. Advertising on site
Advertising on-site. Stand out.
If you want to be found more easily by visitors on the trade fair grounds, we also have interesting options available. Visitors can find a local version of the exhibitor and product database on the D:vis terminals (visitor information system). Here you have the possibility to place an advertisement on the terminals in all halls and entrances.
At Entrance North (the main entrance), the six meter high video wall is particularly noticeable, on which you may also place your logo or customized advertisement. Catch the visitor's eye as they enter the trade fair and lead them directly to your stand! These positions can be combined especially well with your logo on the site plans placed around the grounds, assuring your company is optimally placed for visitor navigation. 
Overview of on-site advertising positions
7. Videos
Advertise with moving images.
Present your products and services to a wide audience and use corporate and product videos to show why potential new customers should contact you.
For an optimal corporate and product presentation, we recommend booking the discounted marketing packages!